Projects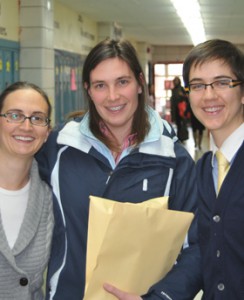 The following is from our inaugural year, and was posted by Jacqueline Labate, Project Coordinator, in December 2010:
The 2010-2011 project brings together classes from two middle schools, one in rural Vermont and the other in urban New York City.  Three teachers and I make up the planning and teaching team for this educational opportunity.  We work closely together to plan and implement the project, and I provide additional support and resources as needed.   
The two classes were introduced by talking with each other on a group video call, answering questions they each prepared ahead of time.  This was followed up with a journal reflection on what they learned about the others and what more they want to know, all from the perspective of culture.  In addition, each student is matched with a pen pal student from the other school.  These pairings give each student someone to get to know more personally, as well as discuss their projects and service learning with.
Currently both classes are exploring social justice issues.  They have identified a wide range of community problems and have formed groups to address them.  Topics under discussion include poverty, unemployment, abuse, pollution, hunger, bullying, and drugs and alcohol.  As the year progresses they will continue to collaborate on additional projects and activities, digging deeper into the issues they self-select and comparing the problems and solutions in their respective communities.
In a wonderful link to local curriculum, both classes are simultaneously working on related initiatives, such as "empty bowls night" (a community awareness event on poverty and hunger) and "kids can help" (a calendar project with monthly student-initiated community service activities) in VT, and gardening and cooking projects in NYC.  The teaching team works to ensure that The Growing Peace Project dovetails with classroom goals and standards, and we couldn't have asked for a better fit with these initiatives.
All of us, teachers and students alike, are very excited about this project.  As one student said in a journal reflection:  I felt happy because I was learning about other peoples.… It makes you a better person.
Please visit our blog and Facebook page for more information.
Photo:  The Growing Peace Project teacher leaders meeting for the first time in NYC.