I walk into the classroom and stand for a moment observing the sea of life before me.  A couple of kids quietly talking together, a larger group having a good laugh, a trio playing math games, a boy studying the classroom fish tank, a girl on the rug deep into her book while her hand slowly reaches for an apple slice.  So much going on, but really nothing much at all.  Just kids being kids…
It's that moment just before I begin working with students that really thrills me.  I think it's because I know what's coming.  I'm always excited to undertake this journey with them, to discover what we'll learn together – the new understandings I might influence in their study of mathematics or social justice, and the insights they'll impart to me.
As a veteran teacher and consultant there are lessons and problem solving tasks I have used hundreds of times in classrooms all across the US.  I know exactly how they'll unfold, how much time each lesson will require, how kids will typically solve the tasks, what the outcomes will be.
But just when I think I've heard it all a student will surprise me with a new insight or observation.  She'll offer a solution strategy unlike any other that has come before.  He'll ask a new question.  They'll wonder about the topics in a fresh and surprising way.  All of these different minds working together, all these curious souls eager to understand themselves and their world.  It's incredibly exciting.
That's the beauty of problem solving and crafting an environment where students own their thinking.  The sense of pride, the risk-taking, and the empowerment that result all work together to give kids what they deserve from a quality classroom – the confidence and competence to be problem solvers, and to tackle challenging situations as they arise.   These traits are relevant not just in the math class, but in all areas of life.  The tools sharpened in this room will go far beyond our work together, as the questions we ask here can be useful anywhere:  How do I approach this problem?  What strategies do I have for solving it?  Can I look at the situation a different way?  Where can I go for help?  These are not just math skills.  They're life skills.
The first of the CCSSM Standards for Mathematical Practice says that students can make sense of problems and persevere in solving them.  It goes on to describe what this looks like in practice:
Mathematically proficient students start by explaining to themselves the meaning of a problem and looking for entry points to its solution.  They analyze givens, constraints, relationships, and goals.  They make conjectures about the form and meaning of the solution and plan a solution pathway rather than simply jumping into a solution attempt.  They consider analogous problems, and try special cases and simpler forms of the original problem in order to gain insight into its solution.  They monitor and evaluate their progress and change course if necessary.
It takes skill and practice to be an effective teacher who can lead students on their journey to becoming problem solvers.  The first step on that road is LOVE.  We must love what we do and infuse our classrooms with enthusiasm.   We must love and respect our students, believe in them, and be willing to plunge with them into the oft-perceived messiness of a problem-based classroom.  We must believe in ourselves, and be the risk takers we work so hard to help our students become.
It's so worth it.  The insights we get of how a child thinks help us become better teachers for them, because they illuminate where we need to go next.   Even in that one short school year we can make a difference.  We can help to shape a child's life by being their champions, by helping them to embrace their strengths, and by putting the power where it really belongs – into their own hands.
Here are three such empowered students, reflecting on what education means to them:
Meet Melissa Perez, Julia Delmedico, and Shahruz Ghaemi
Jacqueline
The Growing Peace Project is no longer housed here.   Please visit us…
at our blog,
and on Facebook.
Thanks!
Since February a lot has happened here at The Growing Peace Project…
-Our Vermont and Minnesota schools continued to work together through letters, Skype, and their community projects.  One school focused on climate change and global warming, and the other focused on bullying.  They held an anti-bullying day at their school and educated the other students on where and how bullying happens.
-We had a very successful fundraising campaign that allowed us to fly 9 students and 2 teachers from Minnesota for our summer retreat.  We were also able to host students from Virginia, New York, and of course Vermont.  Funding is always a challenge; we hope to do a major campaign this year to help us become more self-sustaining.
-The retreat was held in August.  Our theme was "conflict" – internal, interpersonal, family, community, global.  We held workshops, did role plays, and worked in small and large groups to better understand the nature of conflict and develop strategies for dealing with it.  We added 3 pieces this year that were a big hit – a storyteller, a guest speaker, and a staff member all sharing experiences with conflict through spoken word and movement.   See our Facebook page for some great photos!
-When I started The Growing Peace Project my initial vision was that over time we would empower a cadre of student activists.  At the 2013 retreat we had students returning for their 2nd and 3rd years, and they're eager to participate in future leadership roles.  It's exciting to work with these students and watch them mature and take on issues that are important to them.
-We invited our Minneapolis school to work with us for a second year.  They're collaborating this 2013-14 school year with a school in Houston, Texas.  Both schools happen to be charters with similar goals and cultures, although their communities look very different.  They have begun their letter exchanges and are just now beginning to think about social justice and issues in their communities.  We have a Skype call planned for December.
-I have been to Houston twice, first to meet the students and then to meet their parents. It was thoroughly enjoyable both times.  Although I already know many of the Minneapolis kids I hope to get to their school this year and see them on their home turf!
Here are some highlights of our recent activity:
-As I wrote about in September we held our second annual retreat in August 2012.  A group of returning students from Vermont and New York City spent four days engaged in "Food For Thought," our program that explores poverty and food insecurity.
-Our free food garden continued serving those in need.  Students at the retreat helped harvest, and spent a day preparing meals at a local homeless shelter.
-Two new schools joined the project for 2012-2013:  a Waldorf school in Vermont and a charter school in Minneapolis.  They are currently in the early stages of collaborating online on community issues, and getting to know one another through a letter-writing exchange.
-We took a field trip to the American Anthropological Association's exhibit on race at ECHO science museum.  The day was filled with thought-provoking information, images, and presentations.
-We reached out to a middle school in Far Rockaway, Queens, NYC, hard hit by Hurricane Sandy.  Our students are considering ways to best help the school and displaced families.
-We're working on a curriculum for a series of family cooking classes, with an emphasis on healthy eating, garden produce, and nutritious, economical meals.
-Thanks to one of our student activists we now have a Facebook page.  This is especially welcome, as it allows us to share our work with folks everywhere.
-We received the Sisters of Mercy Peace Award from St Michael's College.  These grant funds will help us bring our Minneapolis students to our 2013 retreat.
Onward!
Our second annual student retreat was held four weeks ago, and I am still smiling from our success.  What a wonderful experience for us all! 
In August we brought together six of the original cohort of students for our advanced retreat, where we focused on leadership and self-directed learning around the "Food For Thought" theme of hunger and food insecurity.  Throughout the four days we considered this question:  "Can there be peace in the world if people are hungry?"  To put a real face on the issues participants helped harvest the Growing Peace garden (our free food garden dedicated to serving local community members in need), and took their produce to a local homeless shelter where they prepared a meal for guests.  They also researched local and international organizations that work to alleviate hunger, and made a commitment to a project of their choosing.  
Each student left the retreat ready to implement a service learning project during the coming school year.  For example, one student intends to raise money to support a meal packaging program through the organization Stop Hunger Now.  Another intends to work with younger children to raise awareness about peace-making.  Yet another is committed to disaster-relief volunteer opportunities.
 It is our vision that as the years advance this community of young activists will grow.  We invite participants back for follow up retreats, envisioning that they will eventually step into the roles of junior counselors and core staff.  Further, adult and student participants all stay connected through our online blog, Peace Place.  The blog is a safe space where these young activists can talk about their hopes and dreams for a more just and peaceful world, and share the things they are all doing to bring about positive change.  Peace Place is like a cozy room where they are hanging out with other like-minded student and adult activists, a place to share observations, thoughts, reactions, and activities related to "growing peace."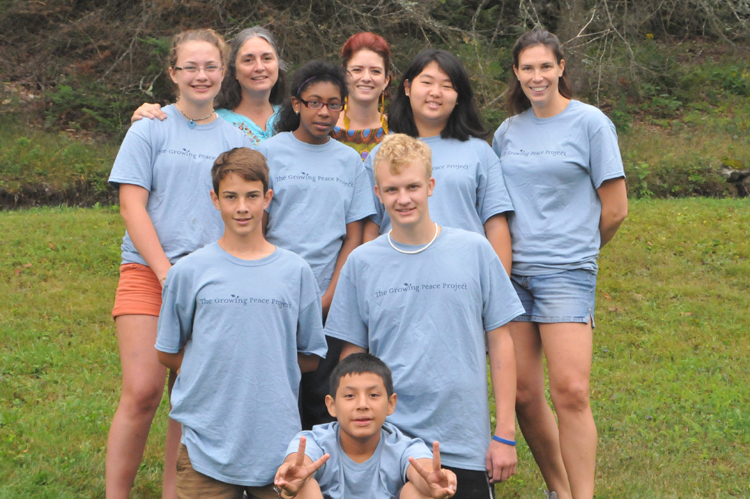 Be the change you wish to see in the world.
Mohandas Gandhi
The quote above has become our motto here at The Growing Peace Project.  It inspires me to do my best work, informing my attitudes, decisions, and actions.  And it keeps me believing in a just and humane world!
Here's an update on our progress and plans since I last posted:
The Growing Peace Project is now a program of Milestone Adventures, Inc, a registered 501(c)(3) nonprofit corporation with a seven-member Board of Directors.  I'm excited to be working with a talented and committed group who do the hard work necessary to move us forward.  Their contributions have been invaluable.
The 2010-2011 school year culminated in a student retreat held in July at my Vermont home and Growing Peace office.  Sixteen students (eight from each school) were selected to spend four days together, where they considered their place in the world, thought about their relationships to each other and to society, addressed their responsibilities as citizens, and actively worked together to grow peace.  These students took their retreat experiences and their work products back to their home schools and communities, where they are working this school year on leading their peers in addressing community issues of their choosing. 
The retreat was a moving experience for students and staff alike.  Here are two culminating reflections: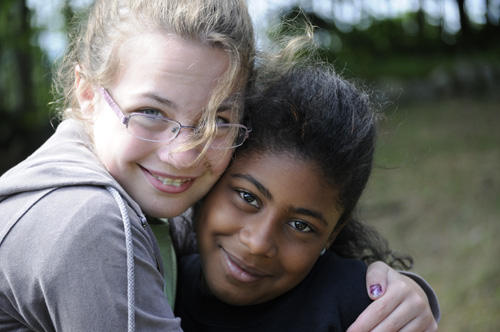 What I learned from my new friends is that it doesn't matter where you come from or sex you are, that we are all the same on the inside.  So because we are all family don't kill, only peace.  That's what I'm asking for, that's all.  (student)
I don't know if you are able to fully grasp the work you did, but each of you has contributed to creating peace in this world.  In this day and age, I'm not sure if there is anything more important for our communities or our minds to be focused on.  I hope you continue what you started by being mindful of our four project goals – to develop leadership and cooperation, to foster relationships between cultures, to empower one another, and to become citizens of conscience – by carrying them over into other parts of your life.  Each of you has power, potential and potency!  Never forget that.  (staff) 
Lovely sentiments indeed!  
Another important facet of The Growing Peace Project is our free food garden.  We've devoted nearly a half acre of land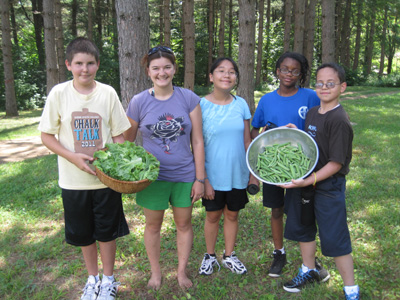 to growing food for people in need, which we donate to local families and to organizations that serve the needy.  When the retreat students were here in July they helped maintain and harvest the garden.  In the process they learned about organic gardening and healthy food choices, with the added benefit of bringing home a new awareness of serving their communities.  In the summer of 2012 we will also partner with local youth organizations interested in supporting our garden, and will enlist their help in implementing a "plant-a-row" campaign and gleaning produce from area farms.  A long-range goal is to offer a series of food-related workshops for needy families, such as understanding the nutritional value of healthy foods, as well as preparing, processing, and storage.
As we enter our second year of service we are excited to be working once again with our original cohort of students, who are fine-tuning the action plans they created at the retreat for implementation throughout this school year.  Those students will be invited back for "Retreat 2" during summer 2012, where they will further their peacemaking and student activism skills, and help write curricula for future cohorts of students.  They are also eager to help create a student blog that will provide a forum for young activists around the country to share their work with one another.  In addition, I'm in communication with other schools interested in joining the project in the fall of 2012, and I'm keeping these potential partners informed throughout the coming year.  Finally, to help us move our vision forward we are actively seeking grant funding and financial support from donors who believe in the work we do. 
It's a very exciting time for us here at The Growing Peace Project!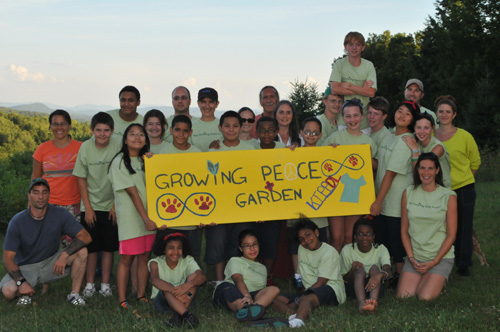 We've been so busy over the past few months that I've not taken the time to post an update on The Growing Peace Project.  Here are some highlights:
Our students continue to make personal connections through pen pal letters to each other.  Each student from one school is matched with a student from the other.  They communicate through regularly-scheduled letter writing, where they have been learning about each others' lives, schools, and communities.  In this way they're gaining an appreciation for how their respective communities inform their views and perspectives, and learning to break down stereotypes through greater insights into the whole of their pen pals' lives.  These interactions have been enhanced through their work in creating an online photo story, videotaping a school tour, whole-class Skype video calls, and personal reflections.
Following videotaping of their community issues projects, the students formed small-group discussion forums via Moodle to address those issues.  Together they generated five broad categories with subgroups – bullying (online, school, community), environment (littering, air pollution, deforestation, recycling), economy (losing jobs, homelessness, hunger, poverty), substance abuse (drugs, alcohol, smoking), and vandalism.  These small groups meet online regularly to discuss the issues and how they impact their respective communities.  It's been an exciting and dynamic forum!
We are about to embark on the next school phase, where the students will begin to create action projects they can implement.  After all of the thinking and talking they've been doing they are more than ready to realize their ideas into actions that will serve their communities.  I can't wait to see what they come up with…
We hope you'll join in on the discussions.
As we roll out our updated website and announce our new initiatives it seems fitting that this inaugural post should be a dedication…
I was on my way to visit my father when I called my dear friend, 92-year-old Elizabeth "Weebie" Mapes Clark.  I was eager to share with her my plans for The Growing Peace Project.  I had had many conversations with Weebie in recent years about my desire to serve, and in typical gracious Weebie fashion she encouraged and applauded my vision.  During the conversation we talked at length about our mutual dismay at the ills of the world – violence, hunger, injustice, hatred – and I could hear the sadness in her voice.  I was reminded once again why I respect this woman so much.  She embraces the whole world with her heart.  She is the kindest person I know. Read more